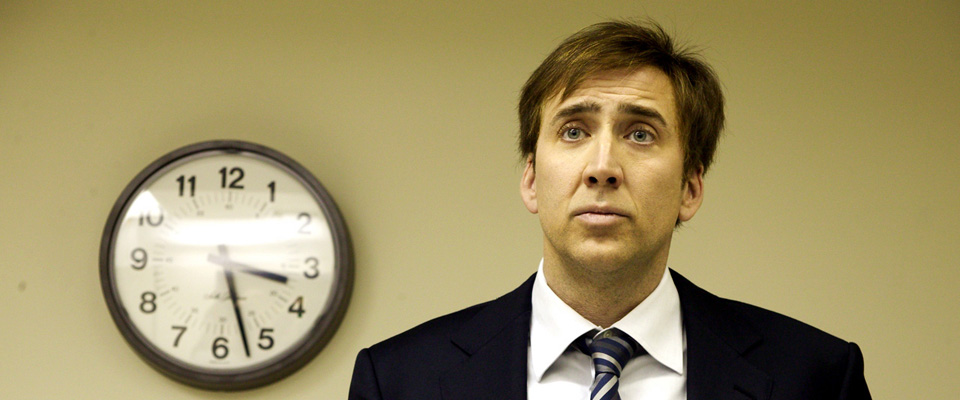 Sorry I'm a bit late, the public holiday messed with my schedule as only a public holiday can. This weekend's theme was "Nicolas Cage: loser at large". A weekend of Nic Cage being Nic Cage, a weekend forecast to be good movie-watching weather, sounded like a perfect match. Then I watched some of the films and was reminded that I don't actually like  Nicolas Cage's acting that much. I guess that's one of those things that I forget about when I associate him with bird hair.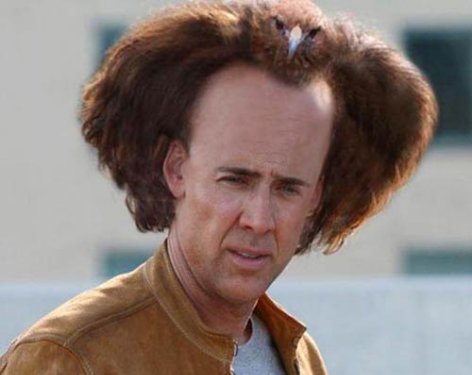 (isn't it glorious?)
But I didn't realise that when I started out. So, on Saturday I watched The Weather Man. David Spritz (Nicolas Cage) is a local weatherman who is the son of a famous author. His marriage has failed, his kids are messed up, things are falling apart but he has the chance to be a big shot weatherman on a big shot morning show and make everything better.
I figure the film was supposed to echo his life, where there's not real highs or lows in the plot, and what peaks and troughs there are has David just stumbling through it all. I can see what was tried to be said, but to me it just was kinda bland and boring. I guess I kinda missed the point of the film in that regard, but for the most part I was just wondering when this movie was going to get interesting or just be over. David is suck an awkward character that it made it pretty uncomfortable to watch and I hate those kinds of films.
That being said, there were some funny bits. Michael Caine's really dodgy American accent was funny (in a distracting way), and there were some of the interactions between Nic Cage and his family that made me laugh aloud.The thing is that for most of the amusing parts it was either unintentional or the other actors that were the funny ones. So this film was not what I was expecting, and not really encouraging me to watch any more.
But I figured I would try again on Sunday, with Adaptation. This is the film about Charlie Kaufman (Nicolas Cage) and his struggles to write a screenplay based on a book about orchids. Meanwhile his twin brother Donald (also Nicolas Cage) is also trying to become a screenwriter as well, playing to Hollywood stereotypes rather than originality. After a while Charlie tries to write himself into the screenplay to show the obsession that he, the author of the book and the main character of the book all seem to have about their respective subjects.
The film starts off with Cage having a stream of conscious ramble about himself and how pathetic he is. Not a good sign. I got so sick of the self loathing and self deprecation that Kaufman embodied that I tended to check out whenever Nic Cage was on screen. At one point Ben looked over when the Kaufman brothers were both on screen. "There are two of him. Why are there two of him?" I explained that they were twin brothers, and he just gave a little sigh. "Of course they are" he commented before turning back to his computer. That's pretty much how I felt about this film. The storyline with the author and the orchid specialist was much more interesting to me, and thankfully the second half of the film focussed on them (albeit with some Kaufman interruptions) so I didn't turn it off and actually watched it to the conclusion. I am almost certain I'll never watch it again, though. Fuck that.
My main problem with the film was that it really just felt like Charlie Kaufman (who is a real screenwriter and who wrote this film) was trying to show how clever he was with all the stories within stories and the way he plays with the ties to reality. It sounded interesting to see how it played with that, but ended up more kinda wanky. Plus the whole meta story of "A man writes a movie about himself struggling to write a movie who inserts himself into that screenplay to try and write the movie." was a bit ham fisted at times and obvious and annoying.
So because that was two for two that I didn't like, I didn't bother with any of the others suggested for this theme. They were, if you have the inclination to watch them, Lord of War, The Bad Lieutenant, and Leaving Las Vegas. It's a bit of a let down when things don't go well on the movie front, but I guess I'm never going to like all the films suggested over the course of the book. Par for the course and all that. I'm going to Melbourne this weekend, so the next lot of reviews might be a bit late (or early), but I'll try hard to watch something and do a write up anyway.