It's been almost a year since Ben and I went to Japan, and I've finally looked at the photos I took while we were there. There were a lot of terrible ones, but I managed to take some that I liked enough to post here. We went to Osaka, Hiroshima, Nagoya and Tokyo in the 2 weeks we were there and ony barely scratched the surface of all those places.
We saw a lot of impressive buildings and monuments.
Osaka has Osaka Castle, standing proud and tall with all its golden detailing. There we learned all about the different struggles the different Shoguns had to control Osaka. We had a lot of fun discussing how the different political powers were all as terrible as each other. There was a school group that cheerfully said hello to all the tourists (including us) as they barrelled around the exhibits.
Fushimi Inari has an abundance of fox sculptures, big and small, as the Kitsune is the guarding spirit of the shrines in Fushimi. They all looked different, and I couldn't help but stop to examine as many as I could.
In Tokyo we saw the statue of Kusunoki Masashige, a samurai who was known for his great leadership skills and for fighting for the Emperor. The statue was very big and imposing, with so many details that I wanted to try and take photos of.
Most of my photos focussed on the small details that caught my attention, rather than picturesque views. I've always been drawn to seemingly random aspects of places, and I always try and capture this curiosity in photos, but a lot of the time I'm not that successful.
Fushimi Inari was full of these little details. Throughout the walk up the mountain there were small shrines off the main path, with buildings covered in moss and worn from the elements, slowly going back to nature. We also found a number of graves which were incredibly interesting; some were very old and dilapidated, but others were very well kept, with offerings of food and alcohol, and strands of bright origami cranes hanging off them. That area was so quiet and peaceful and I could have just looked at the different graves for ages.
I also took seemingly random photos at Osaka Castle when things caught my eye.
The castle was full of gold detailing, from the murals and protective decorations, to gilded caps on the ends of structural parts of the castle. The gardens surrounding the castle were also very impressive, with gorgeous massive trees and orchards full of crows, as well as historical monuments dotted about that made me wish I could read Japanese so I could find out what they were for. There was also a shrine nearby that I ended up taking lots of random photos of. The wooden plaques were something you could buy and write a wish or message on, and there were stands full of them with messages in all different languages.
One thing that I often try (and fail) to do is get candid photos of people as I'm walking along. Most of the time they are blurry or someone gets in the way, or just generally bad photos, but I found two (two!) that I liked.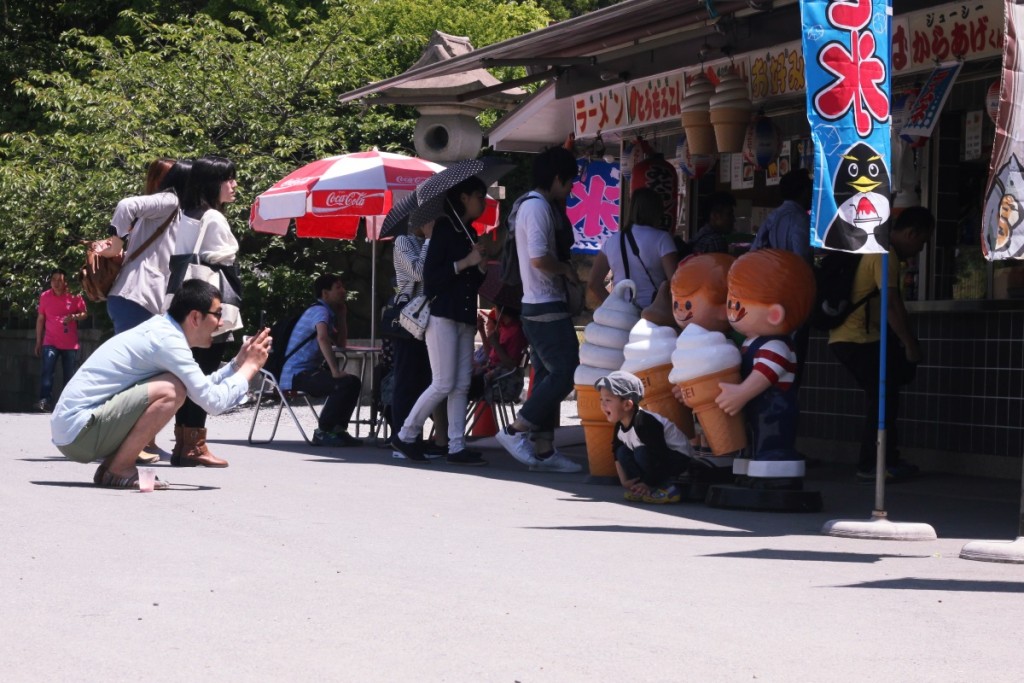 This kid and his Dad were both ridiculously cute together. The kid didn't seem very sure about the situation as his Dad got him to stand with the weird ice cream mascot things, but once he worked out what was going on he went all out in posing for the photo.
This lady was at Fushimi Inari. There was a Japanese couple getting their wedding photos taken in their traditional outfits at the shrine, and I think this lady was with their party. There were a few ladies wearing kimono walking around Fushimi that we saw on the way to the shrine, so she may not have known the couple. All I know is that she looked beautiful with her ridiculously detailed kimono and intricate obi that I felt very shabby in my boring travel outfit.
Looking at these photos has made me want to go back. The photos of the shrines reminds me of how quiet and peaceful they were, and there is so much we didn't get to see on our trip that Ben and I both feel that we need to go back. It took us 6 years (at least) to get organised enough to go this time, but it definitely won't take us that long to go again. Maybe by then I'll be better at taking photos.